It's a bird! It's a plane! It's a fabulous classroom! Motivate your students to learn with  an exciting Super Hero classroom theme!
Why Super Heroes?
Several years ago, the school where I worked, did a whole school Super Hero theme. That awesome school did a different them each year, but the super hero theme was my favorite because it is loved by students and parents alike. Super Heroes are risk-takers who fight for the greater good! They persevere through challenges, help those in need, and always strive to do their best! Aren't these the character traits we hope to inspire in our own students? As a bonus, super hero movies are very popular right now and their decorations are easy to find and create.
Below you will find some examples of the super hero theme in action!

This is my "Super Second Graders" bulletin board from this past year. I used super hero clip art that I found here and added each students' name. I created a city skyline using black paper in front of a navy blue paper that already had stars printed on it, but you can create this same effect using glitter or cut out stars!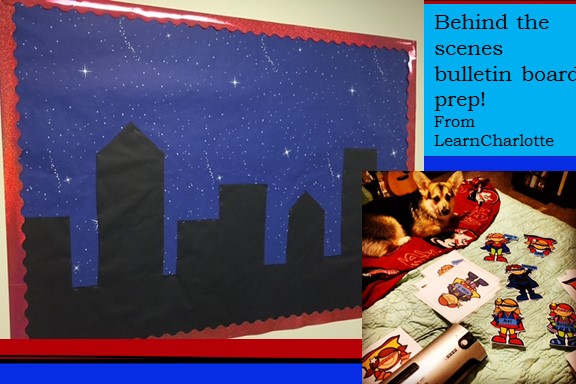 Here are some pieces of the board before it was put together. Pablo helped me print and laminate all of the clip art. Once it was time to take the "Back to School" board down, I put the super students up in the classroom and displayed the students' work under their names.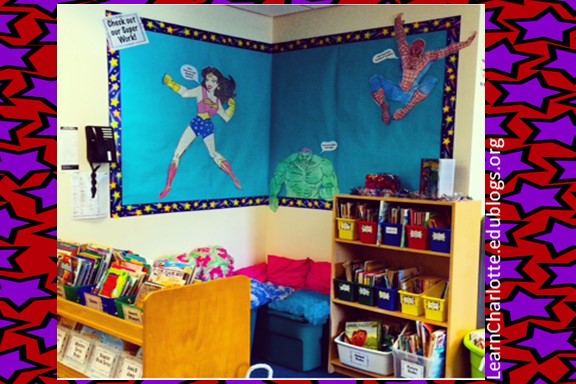 To create large super heroes for my reading nook I projected pictures of Wonder Woman, The Hulk, and Spider Man onto the big screen in my classroom. I then hung up large white sheets of bulletin board paper and traced the images. It works best if you project simple images of the characters. If you google "Wonder Woman coloring sheets", then you'll get an easy to trace black and white image. Later, I colored the characters in and laminated them. I made these in 2009 and here they are on the walls of my 2014-2015 classroom! Woohoo working smarter not harder!
I used my reading nook bulletin board to display my "Super Hero All About Me Books!" The students created these during the first days of school and then again at the end of the year. When I sent home both copies the parents loved seeing how much their child's writing had progressed from the start of the year. I've had my second and third graders create these books and they love them!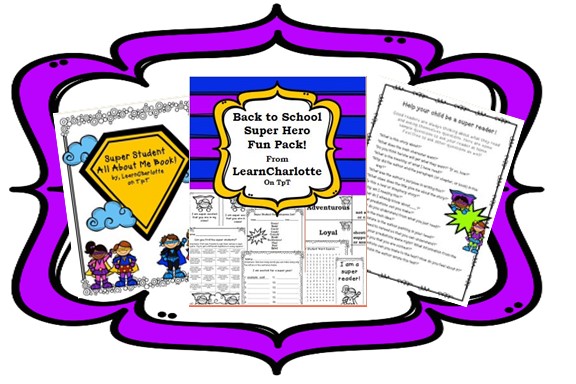 If you are looking for super hero resources to use in your classroom click here!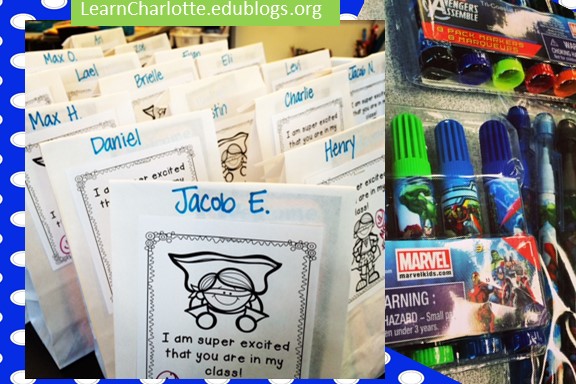 The first time I meet my students I like to give them a little something that let's them know how excited I am that they are in my class! These super hero goodie bags are easy and inexpensive to create. You can find the goodie bag tags here and fill them up with party favors!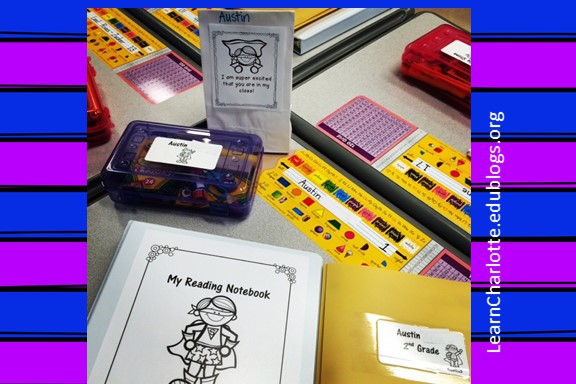 I love using Creatives Clips Clip Art to make everything match the super hero theme!
Below are some examples of hallway decorations! Don't be afraid to get creative! Black paper and white chalk make an easy city background!